Hello, Everyone! Today I'm happy to share month seven of my First Ladies Quilt. If you are new to this series, I've been taking a Block of the Month class and making a quilt. The blocks are named after First Ladies (of our nation's Presidents). Please see past posts for all the blocks. A picture of the quilt is in the first post on 11-19-2019.
This month both my blocks went together very nicely and my points are practically perfect. I took the time to finger press my bias seams (please see my March 18, 2020 Helpful Ideas post and affiliate link for this must-have pressing tool) and trimmed all my half square triangles and flying geese pieces as I went. Taking the time for these extra steps really make a nicer finished quilt block.
The first block today is Ellen Wilson; she was Woodrow Wilson's first wife and the mother of Eleanor Wilson. Please see the block is below.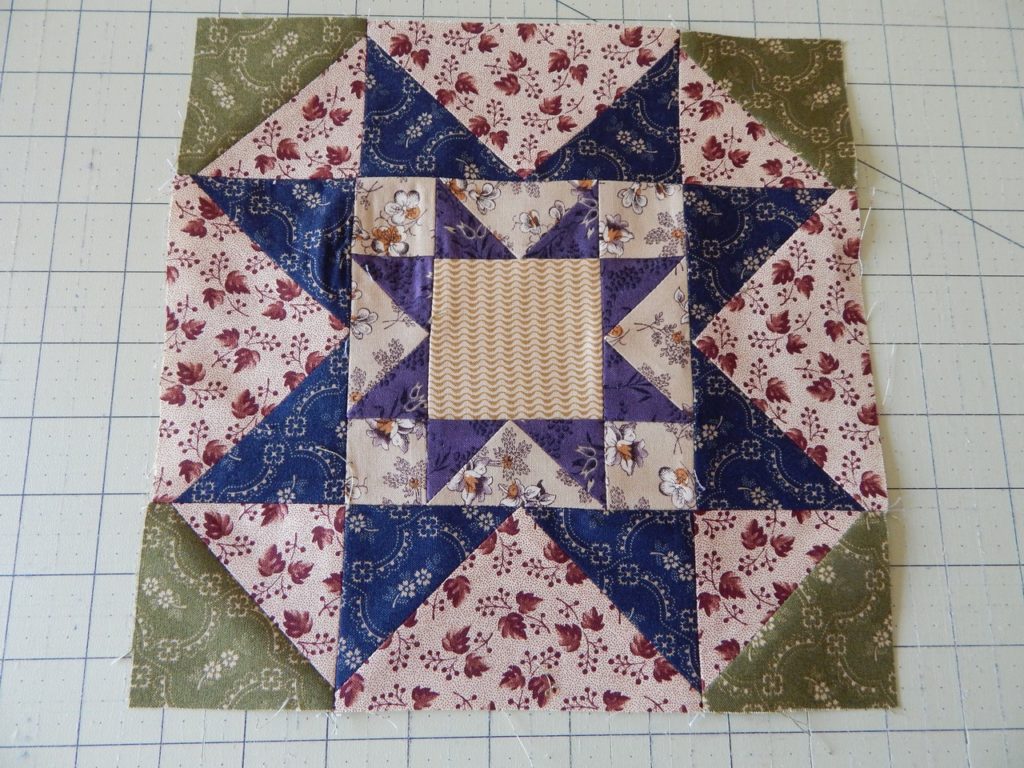 The center segment starts with a cream square 2-3/4". It's surrounded by purple and cream flying geese and cream squares, finishing at 5". Our center is surrounded by more flying geese and half square triangles. The blue and cream flying geese segments are 2-3/4″ by 5″. The corner half square triangle segments are 2-3/4″ square.
I like this block. It turned out nicely.
My second block today is Edith Wilson, Woodrow Wilson's second wife. Her bio (included with the block) mentions an interesting tidbit- she lived 1872 to 1961, 89 years. The day she died would have been Woodrow's 105th birthday. Please see the block below.
This was a fun block too, bigger flying geese segments with different colored wings and half square triangles in the corners.
The center starts with a pair of flying geese segments, each 2-3/4" x 5". This 5" square is surrounded by more flying geese of the same size, also with different colored wings.
The corner half square triangles are 2-3/4".
The block creates an interesting zigzag frame shape. It also went together fairly quickly.
Next month the last two blocks will be sewn. Then we start assembling the quilt and building the borders. The finished size is large- 102" square. I was looking at my fabric today, I think I'll have considerable leftovers. I think I'll take my favorite blocks and make some more for an after-quilt for the back.
Until next time, find some time to sew!