Hello Everyone!
This week I'm trying really really hard to finish some things for my Etsy shop. Presently I'm constructing a Rag Quilt. Several things I want to mention-
1. My Cutting Service! If you'd like to make a Rag Quilt but the thought of fringing all the edges discourages you, I can help! I can cut 8.5″ (6.5"f) and 5.25" (3.25"f) blocks that are pre-fringed. The fringe is 3/4" long. I can cut the top and bottom layers; if you want your middle layers to be flannel I can cut those too. Please email me for more info on my service!
2. My layers. For this quilt I cut 8.5" blocks of flannel for the top and bottom layers. I am doing one layer of cotton quilt batting in the middle. I wanted to make a rag quilt with the cotton batting in the middle to see the finished product. I cut the batting so it would be slightly larger than the seam allowances I'll be sewing- so I can catch just the edge of the batting into those seams. I ran a straight stitch in a X on each block to also secure the batting.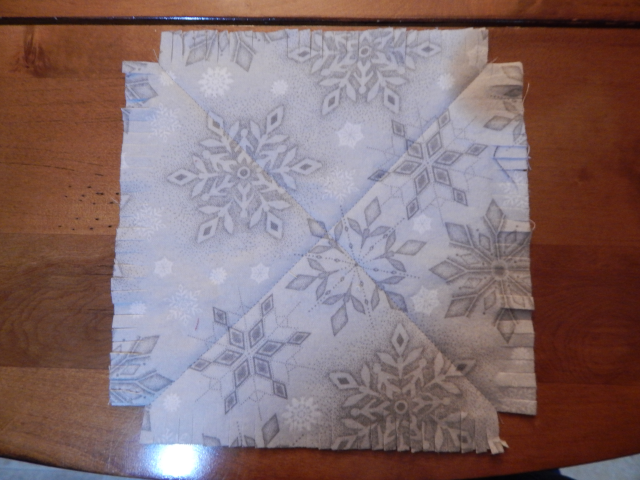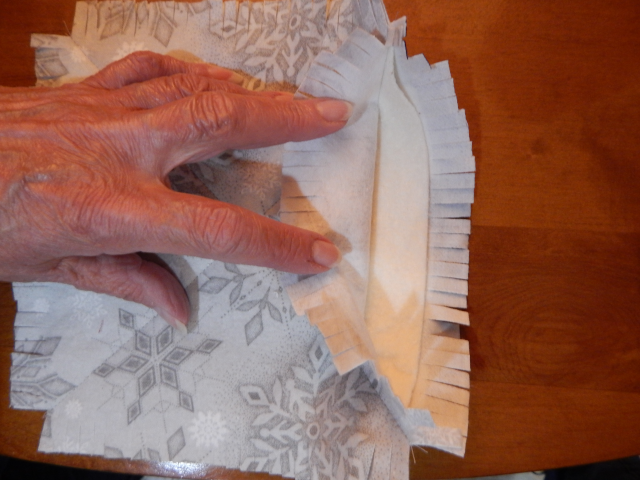 3. I chose 4 fabrics for the top and two for the bottom. I did some organizing- half of all the blocks were sewn on each of the bottom fabrics- I wanted the final pattern on the back to be a checkerboard pattern. I decided the top could be a random pattern (going against my Virgo thing). Below is the layout.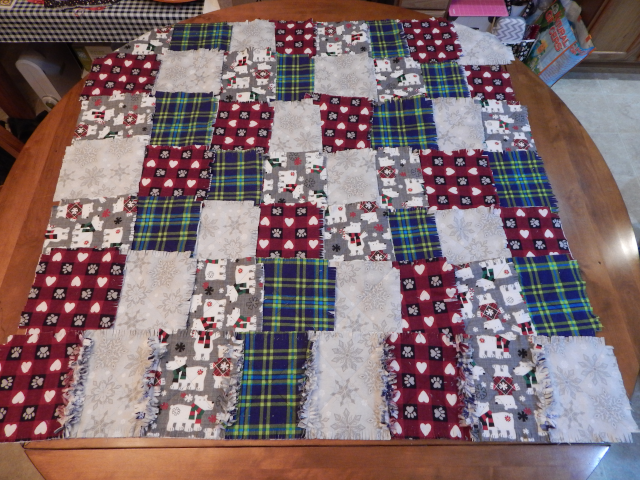 If you look closely, the bottom row has been sewn; you can see the fringe sticking up. I also have it laid there upside down- as I laid out the squares I tried to have no 2 the same touching. When I finish this I will post a picture. I think it will be real cute.
I'm also trying to finish two sets of Wine Placemats. If you read my October 17 What I'm Working On Kitchen Placemats post, I started these babies at the same time. I found the panel of fun wine comments and coordinating fabrics at the Quilt House in Gardnerville. I have two sets of 6; this set is getting its binding. The other set has to be quilted; I'm quilting these sets on my domestic machine. The downfall to that is I mark all the quilting lines with chalk and pin it. See the pictures below. Those binder clips are so perfect for this task.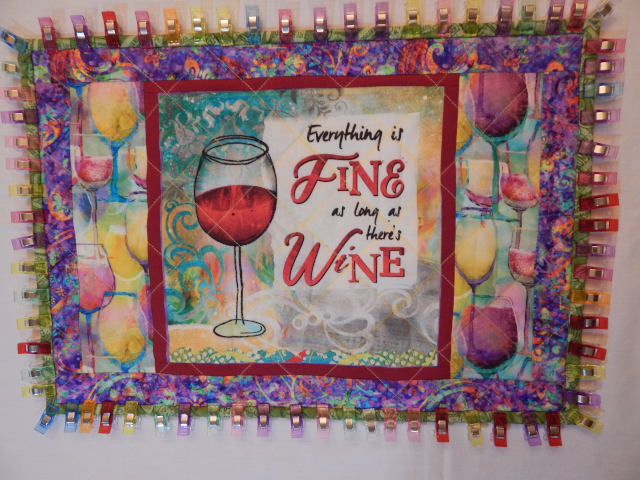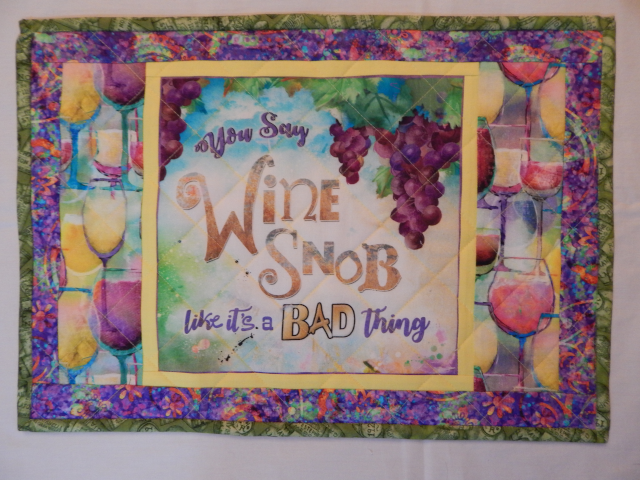 This weekend I will be baking fruitcake (see the 11-7 Helpful Ideas Post for the fruitcake saga) and I have to go to one of those winter craft fair things; I'm searching for something specific for a Christmas gift. Other than that I'm sewing, sewing, sewing! I hope to be showing pictures of finished items at the end of the weekend.
Oh- and I have to decide on the Thanksgiving menu. Bryne is not a fan of turkey. I have some ideas, nothing on paper…
Have a good weekend Everyone, find some time to sew!