Hello, Everyone!
Today I'd like to share the month 5 blocks for the First Ladies quilt I've been working on. Our formal class has not occurred because, well, you know why. (sad face) I miss the ladies I sew with every month; I can't wait to see them again and spend the day sewing together. I'm going to take some fabulously naughty chocolate thing with me that day!
As you know, all the blocks are named after First Ladies. If you're joining us for the first time please look at the previous posts for this quilt project. This month I made my blocks and then read the background story on each of these Ladies; I found it interesting and a little comical. So I'm going to stray for a moment and share with you.
The first block is Letitia Christian Tyler. She was the first wife of President John Tyler. Letitia was born November 1790, into a wealthy Plantation family in Virginia. She met Tyler in 1808, had a conservative courtship and married in 1813. They were married 29 years and had 8 kids (7 surviving to adulthood).
In 1839 Letitia suffered a stroke. After Tyler became President (in 1841 upon William Henry Harrison's death) as the First Lady she rarely left the family quarters of the White House. During this time although she was physically limited her mind remained sharp as a tack and she continued to manage the family plantation and finances. Letitia made one official appearance as First Lady; for her daughter' Elizabeth's wedding in January 1842. She passed away that September.
I tell you this time line because here's where it gets interesting- this month's second block, Julia Gardiner Tyler, President Tyler's second wife. Julia was born in 1820 off the coast of Long Island, New York. In early 1842 (notice the timeline above) Julia was introduced to Tyler; she was unimpressed by him. She turned down his first proposal of marriage. After her Father died suddenly Julia was comforted by Tyler and he got her to agree to a secret engagement. It seems Tyler wanted badly to keep their privacy; he neglected to tell his own children. His daughters did not take the engagement well and agreeably so- the eldest daughter was five years older than Julia.
The story goes on from there, but what I thought was comical was the age difference in the second marriage. Just recently Bryne and I were talking about a couple that was the classic much-older-man marries much-younger-woman thing and here's the example, again. Been happening since the beginning of time, I'd think…
Anyway, back to the blocks! Letitia Tyler! Oh my gosh, I Love This Block!!! It was quick and easy to construct. It's a great pattern that has a secondary pattern. That's what excites me, you can play with colorways to bring out the secondary pattern and really change the look and affect of the quilt. I can't wait to get graph paper and colored pencils out and see what this block can do! See the picture below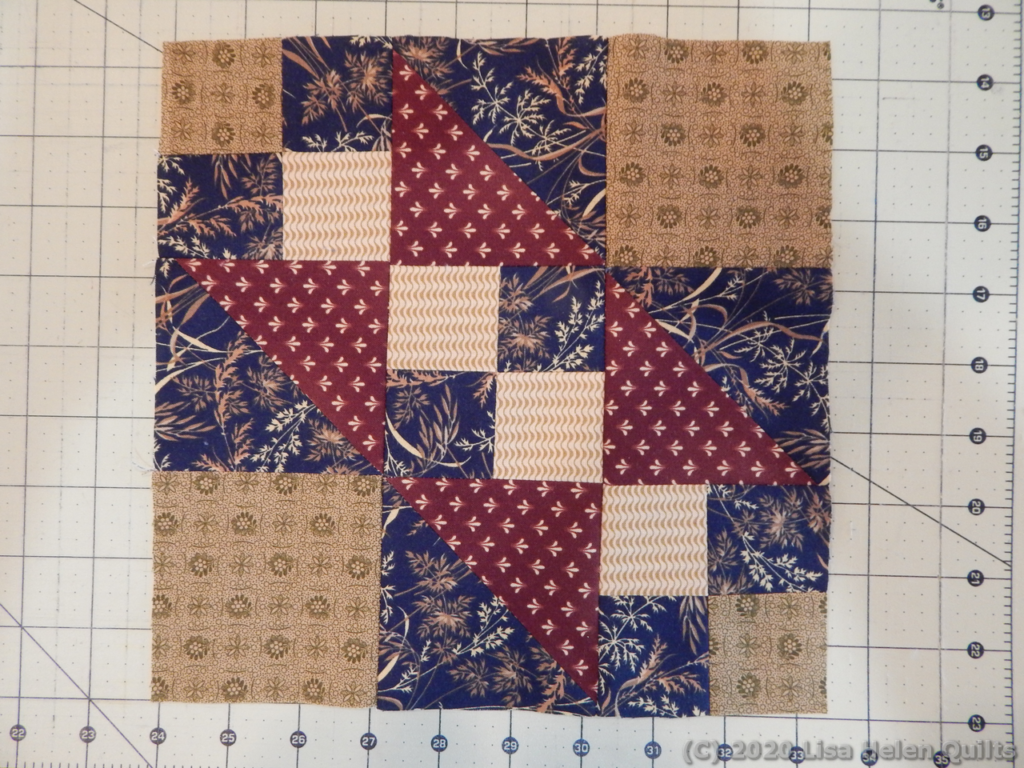 The block starts with making 4 half square triangle segments out of the navy wheat and red fleur de lei. Those are 3.5" unfinished. Next three four-patch units were made, also 3.5" unfinished. These segments were sewn together to create the block. So quick!
And now, block #2, Julia Tyler. This is also a block that forms a secondary pattern. It looks like it would be difficult to construct, but it is really half square triangles, flying geese and a pinwheel center. See it below.
Four half square triangle segments were made from the dark navy floral and beige background fabrics. They measure 2.75" unfinished. Next four flying geese units were sewn, using the same background fabric and the deep red fleur de lei fabric. They measure 2.75" x 5" unfinished. The center is a pinwheel with a beige floral and a purple print. That segment measures 5" unfinished.
Examining this block, I didn't do my best. It was the end of the day and I was tired= don't kee[ sewing when you're tired. This is the result. The points don't match perfectly and I have a puckered seam. I may take it apart and try again.
I also want to mention- because I was not at class, I sewed these two blocks with a different machine. These two turned out 1/8" smaller than all the others. This is a perfect example of how important it is to use the same sewing machine throughout your entire project. See my 2-3-20 Helpful Hints post on consistency throughout your project.
I got an email yesterday regarding First Ladies Quilt Class- the next one will be a Zoom meeting. I'm excited to see everyone and continue with the month 6 blocks. Look for the next post sometime next month.
Until next time- find some time to sew!