Hello Everyone!
I'm very excited to share this with all of you! We have three beautiful, completed quilts!
I teach quilting classes at JoAnn Fabric store here in Reno. This past year Marlene, Teri and I have been making the quilt. We met once a month during 2019 and twice in 2020 to finish it. It is approximately 55" x 70" (twin bed or generous throw size). I will talk more about each quilt as we look at them.
JoAnn fabrics is offering the Quilt Block of the Month class again in 2020. It is a sampler style quilt (each block is different) with traditional style blocks. Wherever you live there is most likely a JoAnn store near you- see if they teach classes. Us three ladies had fun all year, sewing, learning, developing a friendship. There are many benefits to taking classes!
This first quilt is mine.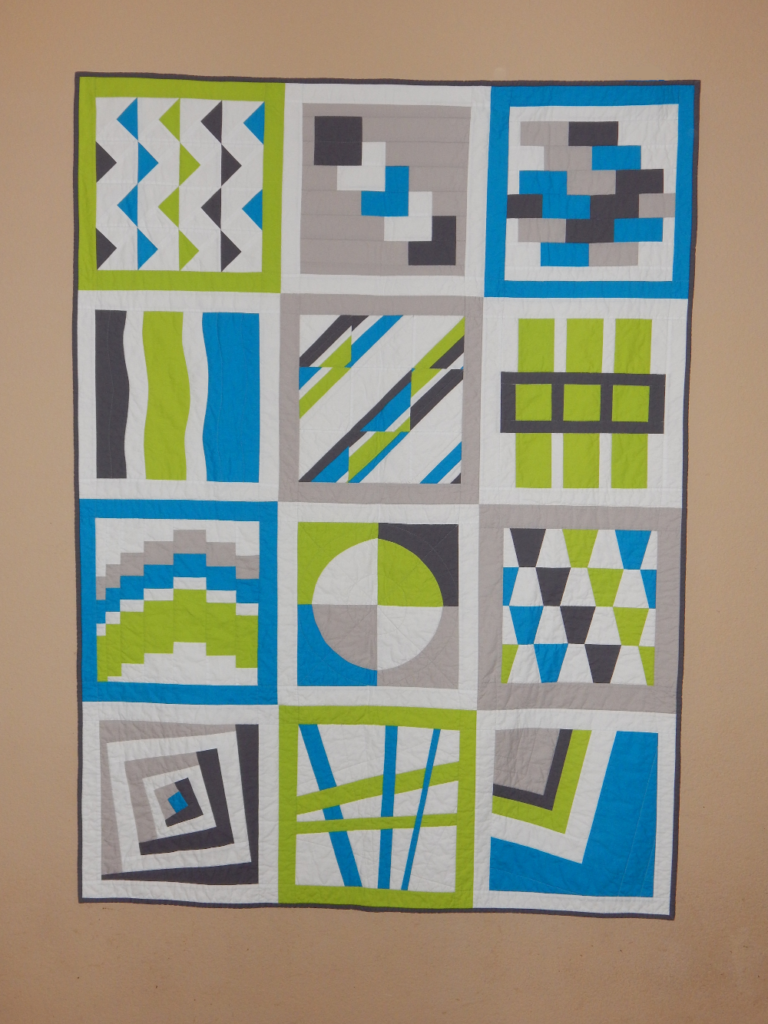 It was made per JoAnn's colors for the sample quilt. It is sewn with Kona brand cottons in two shades of gray, white, turquoise and chartreuse. The blocks are 18" square and are what I'd call "self sashed". The quilting method is stitch in the ditch.
I lucked out and found the perfect fabric for the back- a geometric print in very similar colors.
This second quilt is Marlene's.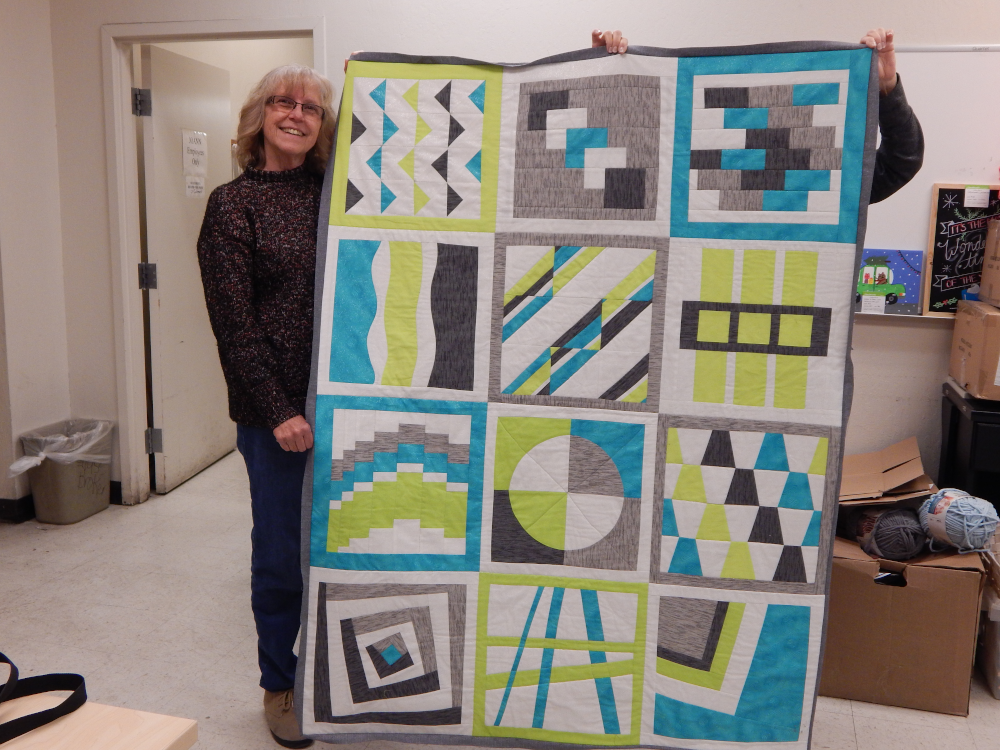 Marlene wanted to stay with the same color theme and chose patterned and tonal fabrics. She chose a gray plaid in a flannel for the back. I apologize for not taking a picture of that, the shade of gray was perfect and adds a little more warm and cozy weight and feel . *Important side note- if you use flannel for backing be sure to prewash and dry it. Flannel shrinks quite a bit; you want the shrinkage complete before sewing it to the quilt.
Marlene used a darker shade of gray for binding. She also did the stitch in the ditch quilting method. This is Marlene's first larger quilt for quilting and she completed it on her domestic machine with accuracy! Thank you for sharing. You did a great job, Marlene!
This third quilt is Teri's.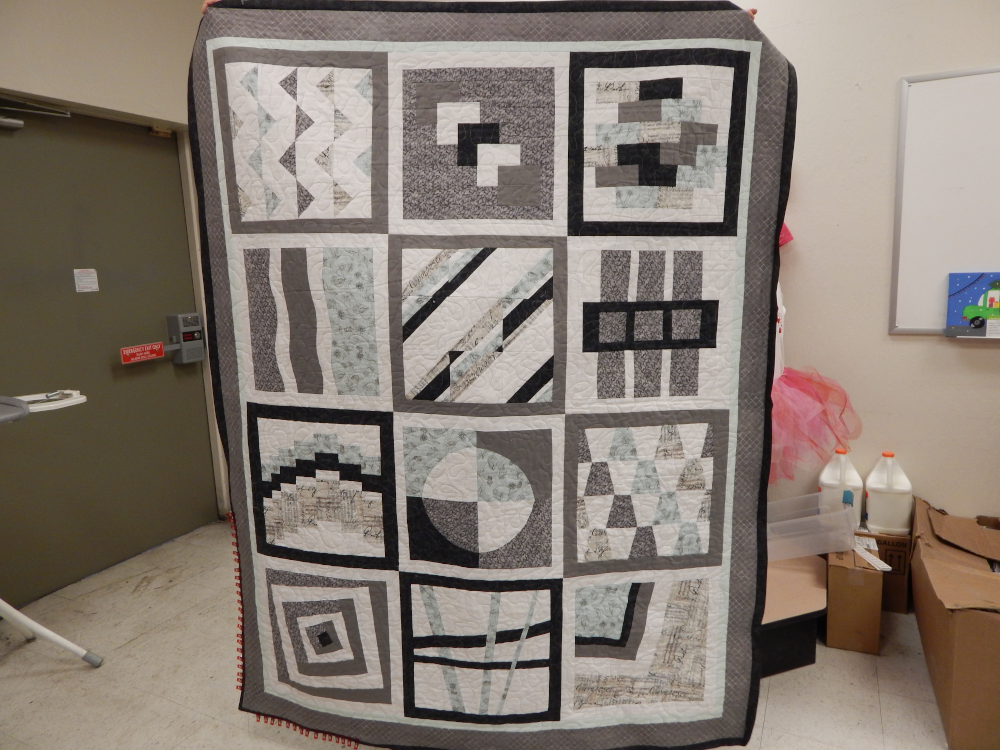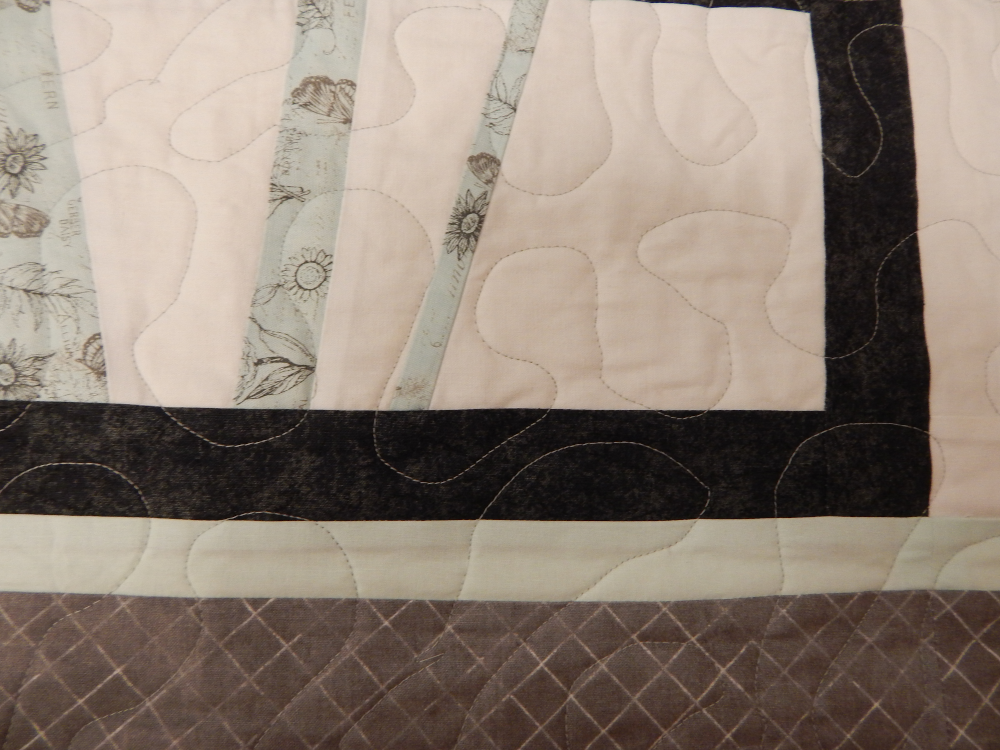 Teri chose a color palette that spoke to her. We are seeing a very dark/black gray and medium gray, white, a teal pattern and a light gray pattern Teri wanted to make her quilt a little larger; she found a light greenish/teal solid for a narrow border surrounded by wider border of slightly tonal gray with a thin white stripe. That gray border fabric is also the back. Teri was a brave soul and had her maiden voyage with her killer Bernina machine that has free-motion quilting and stitch regulator features. Teri chose a meander quilting pattern and the quilt turned out beautiful. Wonderful job, Teri- I'm so happy you experienced the quilting advantages of your Bernina!
I love showing Teri's quilt as a wonderful example of how different a quilt can be with different fabric choices. When you are looking at quilt patterns to begin a project look at the pattern first. You may not like the quilt colors as pictured but applying different fabrics could make it sing for you!
My quilt is for sale at my Etsy shop. If you love the pattern but not the quilt please shoot me an email- we can talk about making it in colors you'd like.
Are you thinking more about taking a quilting class? Take a look at my First Ladies Quilt posts- I'm a student in that class- that's my personal fun right now. Find out what's offered in your area. There are also classes and block of the month clubs offered online. But trust me, if you can take a class in person. It's a fun and rewarding experience.
Until next time- find some time to sew!