This is post #2 for my First Ladies Quilt project. This past Sunday I made the second block for the First Ladies Quilt. The name of this block is Harriet Lane. A picture of the block is below.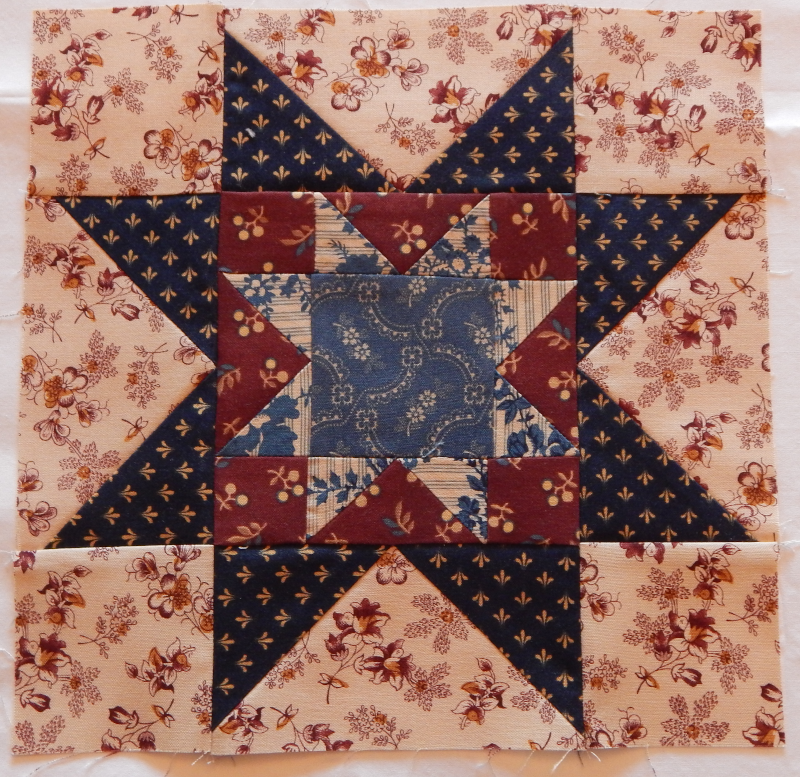 The inner portion of the block was constructed with a center blue square measuring 2 3/4" square. The flying geese pieces framing the square are 1 5/8" x 2 3/4". The red squares at the corners are 1 5/8".
More flying geese were constructed to frame the center square; they are 2 3/4" x 5". I love the navy print with the small gold fan-like pattern. The navy is so stunning in this block. (Next time I'm at the Windy Moon Reno store I will see if there's more, I want to get some for my stash.)
The cream with red print corner squares finishing this block are 2 3/4" square. The block is 9 1/2" unfinished. There are four blocks; they will sit at the outer corners of the blocks surrounding our Eleanor Roosevelt center medallion. A picture of the entire quilt and the Eleanor Roosevelt center medallion are in the 11-21-19 First Ladies Post
That's it for this month- look for my next installment towards the end of January!
Until then- find some time to sew!