Hello, Everyone- WOW, what a whirlwind day 2 was! We sewed for the 5 hours during Zoom class, then I sewed until 9pm. My eyes gave up at that point! I sewed a little more than an hour on Sunday morning so I was "caught up" starting this morning's (Sunday) session.
Let's back up to yesterday, day 2. We started with 40 squares, 3 1/2″. We laid those out and started building upon them.
Now it made sense why we made four of each- they formed the center quadrant for the block. We kept building on layers, at one point it got kind of crazy-
We finished with 10 blocks, 11 1/2″ square. Mine were 1/4″ shy of the desired measurement. The picture above on the right, the bock in the bottom right corner is sewn. We were to use 9 blocks in the quilt.
At this morning's class (day 3) we had our blocks ready to assemble into a quilt. I do apologize- I was squaring up my blocks as class began and did not photograph them for you.
We arranged 9 blocks in 3 rows of three. I cut and sewed 2″ wide pink sashing strips and cornerstones. The purple border around the blocks was cut at 2 1/2″ wide. I chose to add cornerstones in light purple tonal. Please see the pictures below.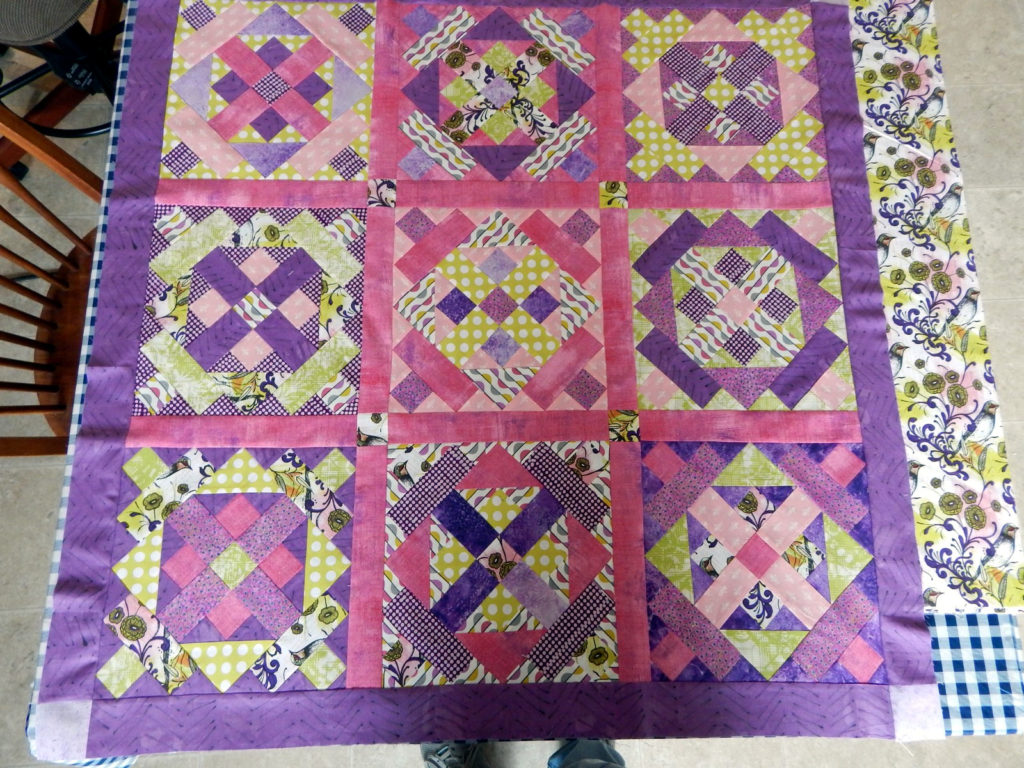 In the first picture above, the quilt should get a 5″ border around it and finish at about 50″ square. You can see the strip of fabric on the right (with birds on it) that's the border fabric.
As the quilt stands right now it's 40″ square. I have been wanting to make a quilted table topper for the diningroom table I work on, and this is the perfect opportunity! I'm going to purchase a second kit and make 6 more blocks. I will add 2 more rows of 3 blocks to make an approximate 66″x40″ size. I will add the bird fabric border to reach 72″x44″ and I will have a beautiful table topper.
I had so much fun this past weekend. The way we cut our fabrics out and constructed the quilt were techniques I'd never done before. There were about six of us in class; the class offered 4 different kits. All of us had quilts that looked completely different! I even bought a third kit- one of the other colorways that has Kaffe Fassett fabrics. I can't wait to make that one as well. If anyone wants to join me in making this project please contact me.
Until next time- find some time to sew!